About Western Heating & Cooling
Bringing Top-Quality HVAC Services to Portland & Beyond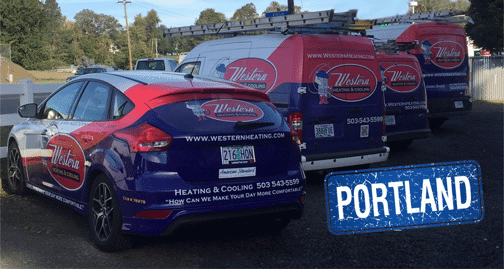 Western Heating & Cooling's motto is "how can we make your day more comfortable?" Whether you're spending your day at the office, or at home relaxing with friends or family, our heating and AC specialists in Portland want to improve your quality of life. The way that we make your life more comfortable is by providing you with the absolute best service around with regard to HVAC, water heater and indoor air quality. You are the foundation of our success as a business, and that makes us extremely motivated to help you out.
HVAC
Heating and air conditioning systems are the backbone of your comfort, both at home and at work. If you are having a tough time keeping a comfortable indoor air temperature, it will start to negatively affect other aspects of your life. We don't want that to happen, which is why we offer a full range of HVAC services for both homes and commercial buildings.
Our commitment to quality HVAC services is apparent in how we conduct our business. Our employees don't just get certified and call it a day. We continue our education annually, keeping up to date with all new developments and brushing up on the fundamentals. We work hard to stay at the top of our game, for your benefit. Our technicians are NATE-certified and licensed to install propane lines. We have also worked in partnership with NW Natural Gas since 2004, in order to make sure that you get the best solutions available. We offer discounts to seniors and veterans, as a way to say 'thank you' for their contributions to our community. Western Heating & Cooling also specializes in duct design, high-efficiency products, indoor air quality, and hybrid dual fuel systems. It's all a part of our commitment to making you more comfortable.
Water Heaters
The water heater is actually the hardest–working appliance in most buildings. For that reason, it is imperative that it receives the best possible service in order to keep working properly. That's why Western Heating & Cooling offers a full range of water heater services throughout Portland, OR. Whether you need a new system installed, repaired, maintained or replaced, we're here for you. Call us today if you have a need for water heater services of any kind.
Other Services
All of these systems are significant investments, which is why we offer a service agreement plan to help protect them. Members of our service agreement program receive a 15% discount on repairs, no overtime or weekend charges, and a service call discount rate. We also offer a 30–day guarantee on all work, regardless of whether or not you are on our service agreement plan, and a 1–year parts and labor warranty on repairs.
Call Western Heating & Cooling Today
If you are in need of HVAC, indoor air quality, commercial or water heater services, reach out to our Portland heating and AC experts today. We are determined to provide you with the best service in all of Portland.
Call our team today at (503) 303-0771 with any questions you have about our business, or to schedule an appointment with one of our expert technicians. We're here to make your day more comfortable.